Law firm management
Smart Collaboration for Lateral Hiring: Successful Strategies to Recruit and Integrate Laterals in Law Firms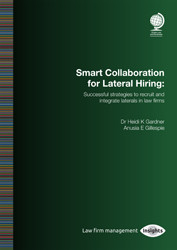 This Special Report offers a new, research-based approach for law firms to improve their lateral hiring process and results by engaging new hires in smart collaboration. Laterals who collaborate with their new colleagues are significantly more likely to stay with the firm longer, to hit or exceed their targets, and to thrive professionally. Firms need a well-constructed plan, a relentless focus on execution, and clear accountability processes if they expect to help laterals achieve two-way collaboration quickly and efficiently. This Special Report offers the tools, processes, and best practices for successful implementation.
Price: £65.00
Legal Tech and Digital Transformation: Competitive Positioning and Business Models of Law Firms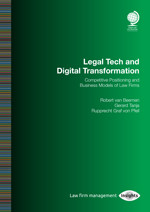 This Special Report on Legal Tech and Digital Transformation offers a practical framework on the impact of technology, legal tech and technology-based legal services on the formulation of strategy in law firms; how legal tech affects the competitive positioning and business model of law firms and how national and international law firms implement technology. The report will offer essential reading for law firm leaders concerned with how to engage effectively with legal tech today.
Price: £45.00
Bridging the Gender Pay Gap in Law Firms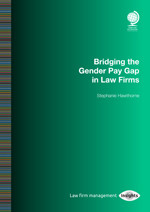 This special report focuses on law firms' gender pay gaps with statistics from the top 50 law firms. This follows new UK government regulations that came into force in April 2017 which required statutory reporting of the gender pay gap for the first time. The report analyses what individual law firms are doing to fix the gender pay gap, including work allocation, mentoring, maternity support, parental leave, women lawyers' networks with analysis from HR directors and lawyers. This cutting edge report will be essential reading for law firm management and practitioners keen to understand the gender pay gap in law.
Price: £45.00
The Lawyer as Leader: Autonomy, Empowerment and Engagement in Law Firms
This special report is a practical, experience-based guide to personal development at every stage of a lawyer's career. The author draws on over 30 years as an international commercial lawyer and senior partner in a Magic Circle firm to offer a roadmap for moving from a "What's expected of me?" mindset to self-leadership and leadership of others. The report's main theme is that retaking autonomy and control can transform engagement and fulfillment in a legal career.
Price: £35.00
Social Media in Business Development and Relationship Management: A Guide for Lawyers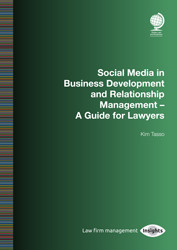 This Special Report provides a practical introduction to social media for lawyers. By avoiding technical details and jargon, it offers a pragmatic guide on how all lawyers – irrespective of industry sector, firm size or client base – can successfully integrate social media into their marketing, business development and client relationship management programmes.
Price: £45.00
Private client
Creating the Trusted Team of Advisers for a Family Business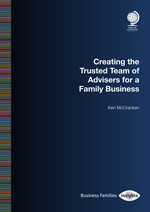 This special report describes how family businesses can benefit from a high-performing, inter-disciplinary advisory team for trusted advice, with members sourced from different organisations, and who have demonstrably effective processes for looking after an entire family and their business interests. Members of such a team are committed to helping the family achieve success.
Price: £65.00