In-house
Managing and Developing Your Career as an In-house Lawyer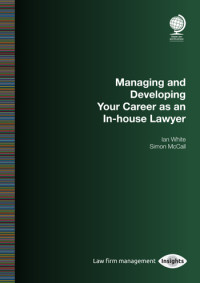 Managing and Developing Your Career as an In-house Lawyer by Ian White and Simon McCall is a companion to their report Your Role as General Counsel: How to Survive and Thrive in Your Role as GC. It seeks to provide practical ideas and tips on how a busy in-house lawyer can actively manage their own development. The aim is to help them perform more effectively in their current role and also prepare them for promotion or a move elsewhere.
Publication date: May 2023
Price: £75.00
Your Role as General Counsel: How to Survive and Thrive in your Role as GC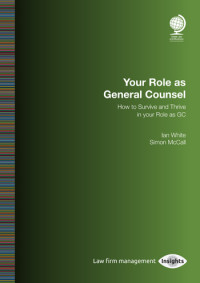 By guiding you through the first 100 days in a significant role, this Special Report seeks to address some of the challenges of the demanding role of General Counsel. It will show you how to navigate between acting as wise counsel to management while leading your team successfully. It is a must-read for any current or aspiring GC, in-house legal teams, HR directors, CEOs and private practice lawyers who wish to know what to expect from the in-house teams.
Publication date: Mar 2021
Price: £75.00
Smart Collaboration for In-house Legal Teams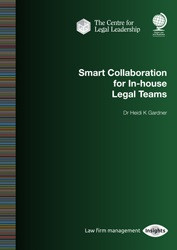 In-house legal teams are under more pressure than ever to add value to their organisations. This Special Report combines the rigour of Harvard research with a pragmatic focus based on input from hundreds of General Counsels, in-house lawyers, CEOs and board members to show why and how legal teams work across silos – what we call 'Smart Collaboration.' It includes the business case, practical tips, case studies and tools to help legal teams master the four essential 'vectors' of collaboration.
Publication date: Apr 2020
Price: £75.00