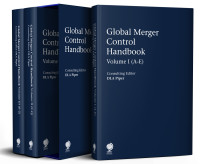 View
Global Merger Control Handbook
Consulting editor(s): DLA Piper
With an increasing number of cross-border strategic corporate reorganisations in today's fast changing global environment, understanding of and compliance with the latest regulations and requirements is of vital importance. To help you navigate through the various specific merger control regulations, this comprehensive three-volume major work offers a thorough and very detailed overview of relevant local rules, methodology, process and timing requirements across over 55 jurisdictions, on a country by country basis.
Publication date: Mar 2019
ISBN: 9781787422162
Length: 1440 (with slipcase, three volumes) pages
Price: £495.00
More details »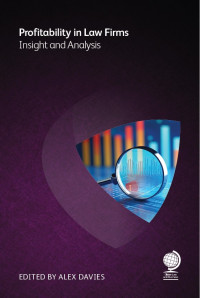 View
Profitability in Law Firms
Insight and Analysis
Secure 25% pre-publication discount today. Enter 'PLF25' at the checkout
Author(s): Toby Brown, Eugenia Frenzel, Steven Campbell, Tim Corcoran, Mark Santiago, Shaun Jardine, Richard Brzakala, Stuart Dodds, Phil Nixon, Wayne Hassay, Madhav Srinivasan, Richard Martin, John McCarthy, Jack Kingston, Michelle Peters, Sam Davenport
Profit. What a simple term. To determine it, all one needs to do is take revenue and subtract costs and there you go: profit. From there it's easy to determine a percentage and margin. So what's so hard about law firm profitability? Profitability in Law Firms: Insight and Analysis provides practical and proven strategies for law firm leaders and managers who want to take their firms to the next level of performance and profitability.
How can they increase their profitability and efficiency without compromising their quality and reputation? How can they leverage the power of technology, data, and innovation to create value for their clients and themselves? Law firms are facing unprecedented challenges in the current financial climate and therefore need profitability strategies to survive and thrive in a competitive and changing market.
Publication date: Jan 2024
ISBN: 9781787429970
Length: 150 pages
Price: £149.00
More details »