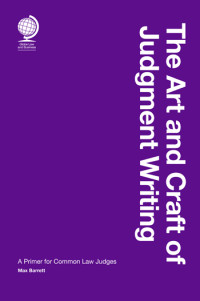 View
The Art and Craft of Judgment Writing:
A Primer for Common Law Judges
Author(s): Max Barrett
Judges are increasingly aware that the best way of enhancing public confidence in court systems is not only by providing a quality service but doing so compassionately and respectfully. The art and craft of judgment writing is a critical element of this process. Written by Dr Max Barrett, a judge of the High Court of Ireland, this book looks at the judgments of historically great judgment writers from the US, UK and wider common law world (in particular Australia, Canada, India, Ireland, Israel and New Zealand). Individual chapters focus on subjects such as judgment purpose, length, style and structure, concurring and dissenting judgments, judgment writing for children and vulnerable parties, as well as more general lessons in good writing offered by great authors from Orwell to Twain.
Publication date: Apr 2022
ISBN: 9781787428577
Length: 373 pages
Price: £95.00
More details »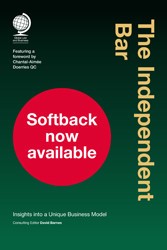 View
The Independent Bar
Insights into a Unique Business Model
Secure 35% discount today. Enter 'SALE2023' at the checkout
Consulting editor(s): David Barnes, Atkin Chambers
This practical guide, edited by David Barnes, Chief Executive & Director of Clerking at Atkin Chambers, provides readers with in-depth insight and advice into the management of chambers including business strategy, international development, talent management and compliance. The book features chapters from some of the most prominent clerks and CEOs currently working within the world of the Bar, as well as experts in accounting and recruitment.
Publication date: Mar 2018
ISBN: 9781787422520
Length: 170 pages
Price: £58.00
More details »