The wealthy client
Creating the Trusted Team of Advisers for a Family Business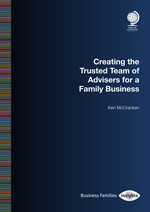 This special report describes how family businesses can benefit from a high-performing, inter-disciplinary advisory team for trusted advice, with members sourced from different organisations, and who have demonstrably effective processes for looking after an entire family and their business interests. Members of such a team are committed to helping the family achieve success.
Publication date: Oct 2018
Price: £75.00
Effective Trusts: Minimising Disputes Through Design, Governance and Administration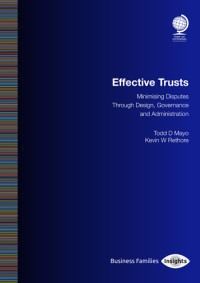 This Special Report examines the causes of trust disputes and explores the steps that settlors, trustees, beneficiaries and others can take during each stage of a trust's lifecycle – design, execution, administration and termination – to reduce the risk of sparking a dispute. Filled with real-world practitioner guidance, perspective and insight on issues of critical importance to fiduciaries, trust officials and beneficiaries alike, this Special Report is essential reading.
Publication date: Jul 2022
Price: £125.00
Family Philanthropy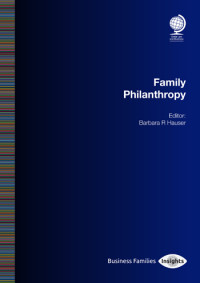 Family philanthropy around the world is a dynamic and important part of the overall social change landscape. This Special Report aims to demystify the topic and presents in a clear and easy-to-understand format the philanthropy choices available to families. It covers a variety of topics including: how families can make decisions about their philanthropy activities; donor advised funds; ways in which families can support cultural organisations, such as museums; and leaving a legacy for the next generations.
Publication date: Jan 2022
Price: £125.00