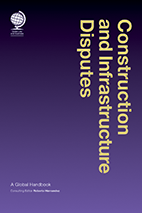 View
Construction and Infrastructure Disputes:
A Global Handbook
Save 40% discount today. Enter 'SALE2023' at the checkout
Consulting editor(s): Roberto Hernández-Garcia
This unique book explains, on a country-by-country basis, the different dispute resolution methods which can be used in construction, infrastructure and public-private partnership (PPP) projects. It has been developed to assist construction lawyers and professionals in identifying the dispute resolution mechanisms which they can and cannot use in a selection of key jurisdictions, thus helping them to save time and money when making decisions.
Publication date: Sep 2013
ISBN: 9781909416000
Length: 373 pages
Price: £130.00
More details »