Strategy and management
Bridging the Gender Pay Gap in Law Firms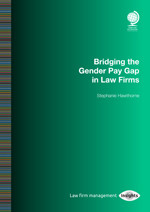 This Special Report focuses on law firms' gender pay gaps with statistics from the top 50 law firms. This follows new UK government regulations that came into force in April 2017 which required statutory reporting of the gender pay gap for the first time. The report analyses what individual law firms are doing to fix the gender pay gap, including work allocation, mentoring, maternity support, parental leave, women lawyers' networks with analysis from HR directors and lawyers. This cutting edge report will be essential reading for law firm management and practitioners keen to understand the gender pay gap in law.
Publication date: Dec 2018
Price: £45.00
Building the Sustainable Law Firm: Developing and Implementing an ESG Strategy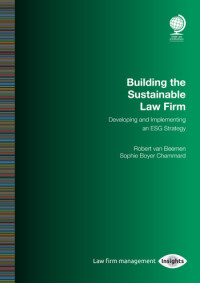 This Special Report looks at the business drivers for sustainability in law firms and offers a practical toolkit to guide law firms on their ESG journey. It discusses how the development of robust, long-term ESG initiatives can provide law firms with manifold benefits, including the opportunity to gain competitive advantage; attract, engage and retain clients and employees; increase value and service offerings to clients; and enter new markets.
Publication date: Jun 2022
Price: £125.00
Diversity and Inclusion in the Legal Profession, Second Edition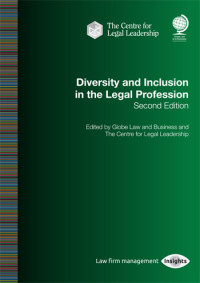 This Special Report explores strategies for maximising inclusion and diversity in the legal profession both in-house and in private practice. The second edition has been fully updated to take into account the pandemic and the adverse impact this has had on diversity and inclusion, along with other developments and includes new chapters on belief, ageism, mental health and intersectionality.
Publication date: Apr 2022
Price: £95.00
Law Firm Mergers: Lessons from Successful Strategic Combinations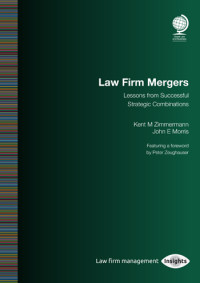 Mergers and acquisitions of law firms of all sizes have become increasingly common as competition for talent and business intensifies and leading firms dominate the market in size and profitability. Lawyers and law firm leaders contemplating the future of their firms need to understand the changing dynamics of the market, and the ways in which mergers and other combinations may or may not help them fulfil their aspirations. Law Firm Mergers offers both law firm leaders and all partners a way to approach the issues, highlighting the best practices gleaned from successful combinations.
Publication date: May 2022
Price: £95.00
Outsourcing of Core Legal Service Functions: How to Capitalise on Opportunities for Law Firms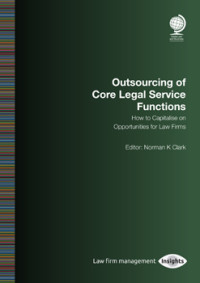 Law firms of all sizes are discovering opportunities from outsourcing some of their core operating functions that have traditionally been performed in-house. This Special Report outlines a highly firm-specific approach to identify and prioritise the components of a business case for outsourcing, as well as in-depth examinations of three representative types of outsourced services that are available to law firms. It provides a step-by-step guide to a well-informed outsourcing decision as well as a roadmap for implementing it in a way that produces the best return on the law firm's investment of management attention and resources.
Publication date: Jan 2021
Price: £95.00
Partner Retirement in Law Firms: Strategies for Partners, Law Firms and Other Professional Services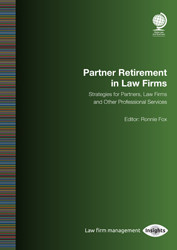 Many professionals, especially those who own all or part of their firm, find it difficult to think about retirement. Partner Retirement in Law Firms is designed to help reduce procrastination and encourage proactive retirement planning. In this new Special Report, expert contributors provide tips and guidance for navigating the difficult aspects of retirement in the broad context of career planning.
Publication date: Mar 2020
Price: £95.00
Stress and Burnout in Law Firms: Leadership Challenges and Choices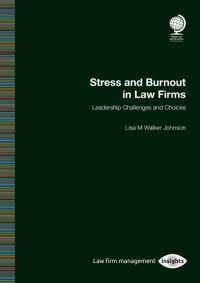 This practical guide summons lawyers, leaders and managers to greater alertness about stress-producing factors in the workplace and to more effective applications of practical responses and methods in the special conditions and circumstances of the practice of law in today's often intense and highly competitive environment. It is written expressly for professional colleagues who want to work together in common cause to bring greater awareness to wellness needs and to minimise excessive stress or distress in the legal workplace, positively impacting workplace culture, professional relationships, firm reputation, talent retention and profitability.
Publication date: Jun 2022
Price: £125.00
The People Who Run Law Firms: Lessons Learned from Law Firm Leaders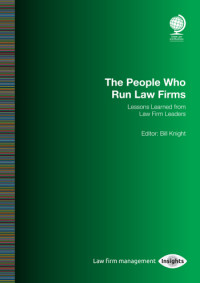 This Special Report contains candid interviews with managing and senior partners of law firms large and small, from Europe and the City to the high street and Africa. By lawyers, for lawyers, it tells personal stories about their pathways to the law and gives their views on clients, management, the role of lawyers in society and the issues of the day. It will provide lasting and critical insights into the profession at this time of change and disruption.
Publication date: Jun 2021
Price: £85.00
Thriving in a Multi-generational Law Firm: How to Increase Communication and Collaboration Among Lawyers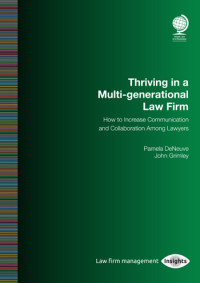 This Special Report identifies the conflicts between the different generations currently working in law firms, which, if they continue on their current trajectory, will compromise the long-held traditions and culture within the legal profession. It will address how generational differences set up conflicts between colleagues and will promote different ways to create positive change and harmony within firms. It contains a key analysis of why associates leave, the cost of turnover (which is in the billions of dollars), and what law firms can do to increase retention and productivity.
Publication date: Nov 2021
Price: £85.00