---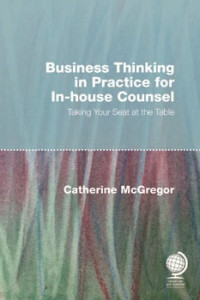 Author(s): Catherine McGregor
Publication date: Aug 2020
Format: Hardback
Pages: 400
Price: £65.00
Discounted Price: £58.50
ISBN: 9781787423268
Secure 10% pre-publication discount today. Enter 'BTP10' at the checkout
Many of the innovations and ideas that legal teams need to embrace – such as those relating to project management and use of technology – have already evolved within the wider business environment. Despite this, many general counsel and other legal leaders report that they feel unprepared to tackle key business challenges and concepts.
Business Thinking in Practice for In-house Counsel: Taking Your Seat at the Table takes a practical look at key concepts from influential business theory and illustrates how these are applicable to managing or working in an in-house legal department.
Topics covered include purpose, culture, talent and innovation, all of which intersect to provide the structure and framework for legal teams to create a competitive edge. Each chapter features an interview and case study with a general counsel and/or legal team to demonstrate how business concepts can be used in-house most effectively.
The author, Catherine McGregor, has engaged with the in-house legal market for many years as a journalist, consultant and commentator. During this time she has built close relationships with leading general counsel around the world and has observed first hand how the role of general counsel has changed and continues to change.
Business Thinking in Practice for In-house Counsel is packed with lots of real-life examples and makes essential reading for any general counsel or senior in-house lawyer seeking to develop their business skills and maximise their team's success.