---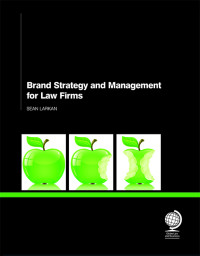 The success or failure of your firm is determined by how your clients and employees view your brand - simple. An effective brand strategy that is clearly understood and supported throughout your firm is crucial if you want to attract and retain profitable clients and sustain a talented workforce. Brand Strategy and Management for Law Firms report provides a comprehensive framework and guidelines for developing a brand strategy tailored to your firm. Packed with key concepts, practical tools, tips and advice this report will give you an understanding of brand and how it can be developed and strengthened as your firm's most invaluable asset. Specifically, this report will help you to:
* Understand the key elements of personal brands, firm brand, and the employment brand - and how they relate to each other;
* Align your brand strategy with your overall firm strategy, vision and values;
* Realise the importance of brand names, icons or logos, design and aesthetics;
* Understand the key brand considerations when using online channels - websites, blogs, LinkedIn, Twitter and Facebook;
* Create a customised brand stress-test and make improvements to strengthen your firm's brand accordingly and ensure its success;
* Get partners and staff on board to support and grow your brand; and
* Avoid brand mistakes and overcome the common challenges - including recommended steps for managing your brand before, during and following a merger.
Brand Strategy and Management for Law Firms features insightful case studies, examples and expert contributions from the likes of Norton Rose South Africa, DLA Phillips Fox, Lex Mundi, Lex Africa and more - They reveal practical tips, lessons learned and mistakes made that will prove invaluable in the development and management of your own brand strategy.