---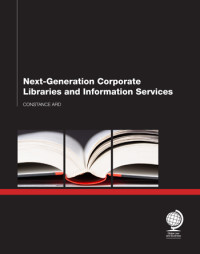 Next Generation Corporate Libraries and Information Services recognises the increasing challenges facing the library function in organizations of all sizes and industry sectors. In light of the changing business environment, growing demands on the information services function and, for many, massively reduced budgets, this critical report will provide you with real-world practical advice that will enable you to overcome these challenges and improve service delivery.
Next Generation Corporate Libraries and Information Services will provide you with the information you require to benchmark your strategies, ensure you continue to deliver the services that are required, and demonstrate your vital and integral role in how your organisation operates.
Featuring case studies, insight and contributions from information resources and library professionals across a number of business sectors, this new report will cover topics including: Emerging roles:
how the librarian's role is evolving in response to the changing business environment;
Co-ordinating with other support functions throughout your organisation;
Supporting, contributing to and optimising knowledge-management practices to enhance service delivery;
How can librarians play a key role in competitive intelligence initiatives? Managing budgets in the current climate, and effectively demonstrating ROI to senior management;
Developing a strategic business plan - building the business case for increased resources, staff and additional technology;
and Taking advantage of the latest technological advances and trends - including social networking, blogging, RSS and corporate wikis.
The report is written by Constance Ard, whose extensive 13 years of experience in working in corporate libraries and information services, coupled with expert opinion and key case studies from leading firms including Beachcroft, Merrill Lynch, YMCA and more provides a truly comprehensive look into the future of library and information services and allows you to learn from your peers who are tackling and overcoming the same challenges you face on a day-to-day basis.