From Norway to Savile Row – Anette Akselberg
23 January 2020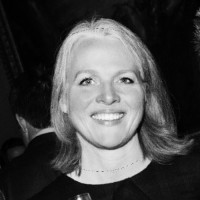 With fond memories of growing up in Norway with creative parents, Anette remembers reading an article about Savile Row when she was 18. She was fascinated. It was the first she knew of 'bespoke' tailoring. That term is from the eighteenth century when a bolt of cloth had already been spoken for by a customer. The landmark address for bespoke clothes was Savile Row in London. Savile Row has retained its position as the address for precise tailoring so much so that the Japanese word for 'business suit' is a word that phonetically sounds like 'savile row' (sabiro).
Anette enrolled in the Bergen Technical College in Norway to pursue a tailor and cutting degree. Now, how to get a position on Savile Row? She went to the British Consulate in Bergen and asked the "impeccably dressed" man to copy the London yellow pages for "Bespoke Tailors". She chose about a dozen to write to, asking for a position. A few invited her for an interview, and she found a starting position! She worked four years as an apprentice, five years as a tailor and rose to the position of a cutter for another 10 years on Savile Row.
Few women were in that field, and they were often relegated to the back rooms, sewing buttonholes and other similar chores. Not Anette though. She mastered all the stages of tailoring and loved it. She recalls her successes with pleasure: Before long, I was making clothes for royalty and movie stars. I can still remember the excitement I got from seeing my work on the pages of Vogue and Harper's Bazaar.
One celebrity was Princess Diana, for whom she made a specially tailored jacket.
Not content to simply maintain her position she mastered the art of 'cutting' which meant that she would take a client's individual measurements, as well as considering their posture and figure, and then translate this information into a unique paper pattern. That became a new passion.
In 2018, Anette opened her own shop, Akselberg Bespoke. She is able to offer the finest quality of bespoke suits for both men and women. One recent customer raved about how well her wishes were understood and made into reality, saying: Anette had the challenge of replacing a very beloved red coat that I had worn to pieces. I wanted something similar, but slightly different and Anette got the balance just right. The quality of the material she chose will ensure that I can wear this coat for many more years than the last one, and the attention to detail she gave it to create an almost surprising sense of style means that every time I put it on, it makes me smile.
We wish Anette great success with her new 'Savile Row' business! On a personal note, her two young daughters might take an interest in cutting, and she enjoys visiting art galleries, being outdoors and knitting Norwegian jumpers. For more information and photos of her work, see
www.Akselberg-Bespoke.com
.