An unhappy New Year for the UK shale revolution
04 February 2015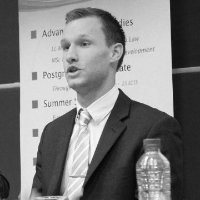 Joseph Dutton is an energy policy researcher at the University of Exeter and contributor to Globe Law and Business title, Shale Gas: A Practitioner's Guide to Shale Gas and Other Unconventional Resources.
The UK shale industry has endured a tough time in recent years, even though there is not yet an industry to speak of. A seemingly endless stream of negative press spiked with mass coverage in 2011 following induced seismicity during fracking operations at Cuadrilla Resources' Preese Hall well in Lancashire, and again in 2013 following the summer holiday-swelled protests at Cuadrilla's Balcombe drilling site in Sussex. Even though the Balcombe exploration well targeted conventional oil – having originally been drilled in 1986 by Conoco – and there was no fracking in the licence application, the reaction it stirred is a measure of the controversy and misinformation that surround fracking and shale gas.
Things briefly looked more positive in 2014 following an announcement in March that shale resources in Northwest England were 50% larger than previously thought, while in November chemical firm INEOS said that it would invest around £700 million in its shale licences in Scotland to establish supply of gas for its Grangemouth petrochemical plant.
But as the corner was turned into 2015, the negative press returned. Lancashire County Council planning officers recommended that an application from Cuadrilla to drill four wells at its Preston New Road site be rejected, even though the Environment Agency had granted Cuadrilla a permit on January 13 to drill at the site. Following a six-month assessment, the agency permit set out conditions regarding ground and surface water, air quality and waste water disposal, and the organisation was confident that the right controls were in place to manage waste disposal, the safe flaring of gas and the protection of local water resources. However, the local authority decided that not enough had been done to tackle noise pollution and disturbance to local residents. An application to drill four wells at Cuadrilla's Roseacre site was also rejected due to noise and traffic concerns.
Despite celebrations from local and national campaign and pressure groups that the decision was in fact a judgement on fracking and shale gas in general, the planning authorities rejected concerns about environmental pollution and water contamination. Cuadrilla intends to undertake noise abatement work at its sites and amend traffic routes for vehicles, and the company is confident that a revised application will succeed in the future. The council's final decision has been delayed until at least March as a result of the measures being undertaken and the revised plan due to be submitted by Cuadrilla.
At a higher policy level, only days later the Environmental Audit Committee called for a moratorium on fracking due to shale's incompatibility with tackling climate change. Although it argued that shale development would extend the country's dependence on fossil fuels, the Department of Energy and Climate Change countered that shale is compatible with goals to cut greenhouse emissions and does not detract from support for renewables as it could support development of intermittent renewables. In 2013 the United Kingdom generated 36% of its electricity from coal (down from 40% the year before), with 27% coming from gas. In the United Kingdom, gas predominantly is the flexible generation source during periods of wind intermittency, whereas coal provides the baseload source of supply as it is cheaper than gas. This means, rather ironically, that increased renewable energy – which rose to 14.9% from 11.3% over the period – displaces gas-fired power generation from the grid rather than the more polluting coal.
The proposed moratorium was overwhelmingly rejected by 308 votes to 52 by MPs on January 26, although the Labour Party did secure 13 amendments to the government's Infrastructure Bill that ensured tighter regulation for fracking. While political capital was gained by the Labour Party – no doubt with an eye on the May general election – a number of the proposed amendments duplicate things that already exist within planning frameworks (eg, the requirement to carry out an environmental impact assessment before development, well integrity testing and full disclosure of chemicals). An ever-present feature of the UK debate is erroneous comparisons to US shale development regarding issues such as non-disclosure of fracking fluid chemicals, reinjection of waste water and the use of open storage pits – all of which are prohibited in the United Kingdom under existing laws. But one key concession by the government was the prohibition of fracking in national parks and areas of outstanding natural beauty. While many of these areas do not have shale formations within them, it could impact on prospective developments in the South Downs, Mendips and North York Moors. False and exaggerated comparisons to the United States regarding a potential fall in wholesale gas prices, energy independence and potential job creation numbers have also undermined the pro-shale campaign narrative.
Despite Cuadrilla's setback, the industry will move forward following the rejection of the moratorium by MPs – albeit limping, battered and bruised. The fracking-related amendments to the Infrastructure Bill will, in principle, add a layer of regulation to developments, but they are unlikely to require a step change in actual practices – although restrictions on national parks and areas of outstanding natural beauty could prove problematic for some companies. Of the 11 wells that were due to be drilled in 2015, eight have already been halted following Lancashire planning authorities' decision on the two Cuadrilla sites. But drilling is required in the United Kingdom to establish how much shale there actually is and how much can be economically recovered, and also to provide specific evidence to inform the debate on UK development prospects, environmental impacts and the suitability of regulation. Until drilling is carried out and a sector begins to take shape, misinformation and false comparisons to the United States will continue to misinform the debate and undermine credibility on both sides.
Joesph Dutton contributed the chapter on public policy to the Globe Law and Business title, Shale Gas: A Practitioner's Guide to Shale Gas and Other Unconventional Resources.