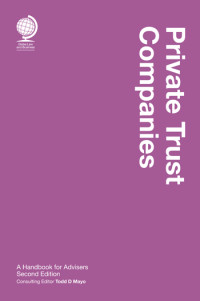 A Handbook for Advisers, Second Edition
Publication date: Aug 2023
Private trust companies play an increasingly important role in the wealth structures of many ultra-wealthy families, offering a high degree of control and flexibility in the administration of a family's trusts and the management of trust assets. Featuring chapters written by leading practitioners.
This title's content shines a light on organisational and operational issues such as designing a private trust company's ownership structure, implementing proper internal controls, outsourcing services and working with professional advisers. Important matters like coordinating with the family office, communicating with family, protecting privacy and handling disputes involving private trust companies are also tackled.
More details »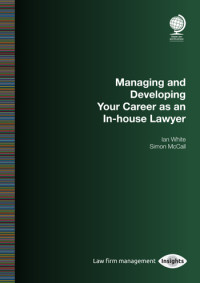 Publication date: Jun 2023
Managing and Developing Your Career as an In-house Lawyer by Ian White and Simon McCall is a companion to their report Your Role as General Counsel: How to Survive and Thrive in Your Role as GC. It seeks to provide practical ideas and tips on how a busy in-house lawyer can actively manage their own development. The aim is to help them perform more effectively in their current role and also prepare them for promotion or a move elsewhere.
More details »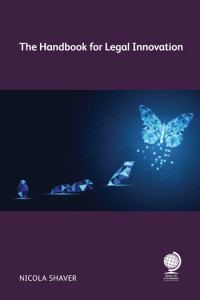 Publication date: Mar 2023
Although legal innovation is critical for law firms, with clients pushing for more efficient, cost-effective, and automated services, very little has been written about how to drive successful enterprise-wide transformation efforts. As innovation and legal operations functions proliferate globally, Nicola Shaver has written the first definitive book to guide legal professionals through setting up an effective innovation function and driving successful culture change and initiatives across a legal organization.
In The Handbook for Legal Innovation, Shaver, the 2020 ILTA Legal Innovation Leader of the Year and a College of Law Practice Management Fellow, outlines how to set up an effective strategy for innovation, provides practical guides for conducting current-state audits, establishes frameworks to help identify project priorities, and outlines how to build and grow the right team. With 20 years of experience in the legal industry, including a decade each of practicing law and driving innovation initiatives in large legal organizations, Shaver draws upon her experience as well as broad industry knowledge to inform this practical guide.
More details »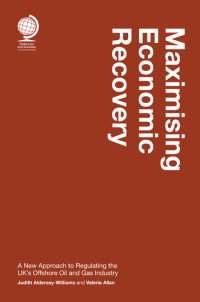 A New Approach to Regulating the UK's Offshore Oil and Gas Industry
Publication date: Jun 2023
Maximising Economic Recovery is not a complete guide to oil and gas industry regulation in the UK; instead, it is specific to the MER UK regime. It describes the legislative changes that introduced the regime, the nature of the NSTA, and how it uses 'soft power' to achieve many of its aims.
The title also describes the regulatory tools at the NSTA's disposal including the nature of the OGA Strategy and how this can be enforced through sanctions, the right to attend a wide range of industry meetings, request vast amounts of industry data and to get involved in industry disputes. It also discusses the increasing focus of the NSTA on the energy transition.
More details »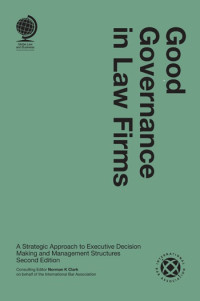 A Strategic Approach to Executive Decision Making and Management Structures, Second Edition
Publication date: May 2023
Good governance has become a critical condition for law firms of all sizes to meet the new, fast-moving opportunities of fast-changing markets for legal services — much more than just having a good partnership agreement.
With new insights and substantially updated guidance derived from the recent developments and disruptions of the past ten years, this Second Edition, published in association with the International Bar Association, concludes with an examination of emerging trends that will shape law firm governance in the future. It provides visionary, but entirely realistic, insights into how law firm governance will need to continue to adapt to new regulatory regimes for the legal profession, stress testing concepts and new alternative business structures.
More details »
Implementing Successful Projects
Publication date: Jul 2023
This book focuses on implementing innovation and the innovation process in a law firm, from pilot to adoption and everything in between (whether that be within the law firm itself or undertaken by the law firm's clients). Divided into four parts to reflect the innovation lifecycle of examine, explore, develop and reflect, this book is a practical guide for those starting or doing innovation in law firms. Whether at the start or part way through an innovation journey, this book allows readers to dip in and out providing guidance on specific issues as they arise as part of the innovation lifecycle.
More details »
See all forthcoming titles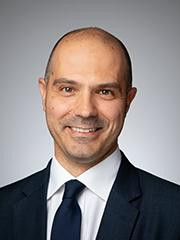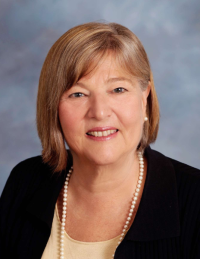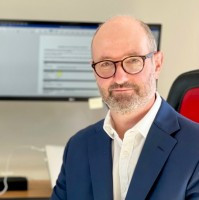 25 January 2023
Ed Smerdon
In the second of a series of three short reads, Edward Smerdon, consulting editor of the new edition of Directors' Liability and Indemnification, offers a starter for 10…
Read blog »