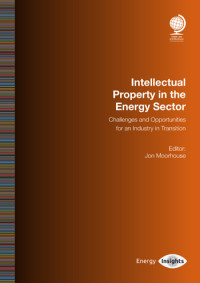 Publication date: Jun 2022
The management of IP in the energy sector is arguably more important than ever. This Special Report looks at the challenges and opportunities that intellectual property issues present for different areas of this broad and rapidly changing sector, including upstream, downstream, renewables, digitalisation, standard essential patents and brand and reputation. It is essential reading for legal advisers and anyone in a commercial role dealing with the energy sector who is seeking a deeper understanding of the vital role intellectual property plays in shaping and achieving business objectives.
More details »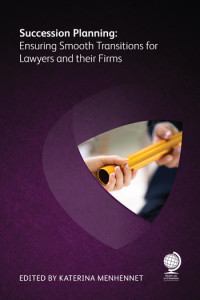 Ensuring Smooth Transitions for Lawyers and their Firms
Publication date: Feb 2022
A successful succession encompasses two core elements: transitioning firm management to a new generation, and transferring client relationships. This title provides guidance not only on how these two transitions can be achieved effectively, from the perspectives of both individual partners and the firm, but also on the plethora of issues involved in preparing for the departure of retiring partners and transitioning in new leadership, including compensation, the role of diversity and inclusion and financial considerations. It also considers situations where more specific and specialised plans may be required, such as managing the succession of a rainmaker or when a sole practitioner sells their practice.
More details »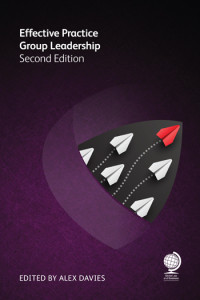 Publication date: Jun 2022
Law firm practice group leadership is not for the faint hearted. As firms compete increasingly at practice group level, leaders are being asked to run their groups like business units; to develop and implement a strategic plan that supports the goals and competitiveness of the firm; and to coordinate and lead their partners to enhance the efficiency, performance, and profitability of their groups. With contributions from a wide range of experts, this second edition of Effective Practice Group Leadership builds on the first with new insights and thought leadership. The book examines the position of the practice group leader (PGL) in law firms today, the challenges of the role, and the changes to it, innovations and how modern practice groups are changing, and demonstrates the enormous contribution PGLs can make to the profitability and performance of their law firms, when armed with the tools and the authority.
More details »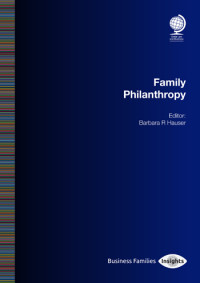 Publication date: Jan 2022
Family philanthropy around the world is a dynamic and important part of the overall social change landscape. This Special Report aims to demystify the topic and presents in a clear and easy-to-understand format the philanthropy choices available to families. It covers a variety of topics including: how families can make decisions about their philanthropy activities; donor advised funds; ways in which families can support cultural organisations, such as museums; and leaving a legacy for the next generations.
More details »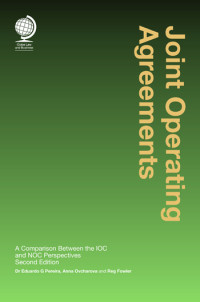 A Comparison Between the IOC and NOC Perspectives, Second Edition
Publication date: Feb 2022
This major work analyses the critical concerns and challenges that IOCs and NOCs face in this new type of consortium, and will ultimately suggest alternative solutions to find common ground between these parties. The new, second edition, which is written by three relevant experts in the industry, updates the previous content and addresses new key issues such as compliance, conflicts of interest, corporate and social responsibility and price volatility.
More details »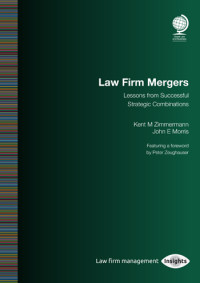 Publication date: May 2022
Mergers and acquisitions of law firms of all sizes have become increasingly common as competition for talent and business intensifies and leading firms dominate the market in size and profitability. Lawyers and law firm leaders contemplating the future of their firms need to understand the changing dynamics of the market, and the ways in which mergers and other combinations may or may not help them fulfil their aspirations. Law Firm Mergers offers both law firm leaders and all partners a way to approach the issues, highlighting the best practices gleaned from successful combinations.
More details »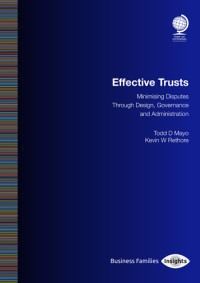 Publication date: Jul 2022
This Special Report examines the causes of trust disputes and explores the steps that settlors, trustees, beneficiaries and others can take during each stage of a trust's lifecycle – design, execution, administration and termination – to reduce the risk of sparking a dispute. Filled with real-world practitioner guidance, perspective and insight on issues of critical importance to fiduciaries, trust officials and beneficiaries alike, this Special Report is essential reading.
More details »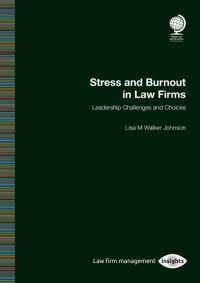 Publication date: Jun 2022
This practical guide summons lawyers, leaders and managers to greater alertness about stress-producing factors in the workplace and to more effective applications of practical responses and methods in the special conditions and circumstances of the practice of law in today's often intense and highly competitive environment. It is written expressly for professional colleagues who want to work together in common cause to bring greater awareness to wellness needs and to minimise excessive stress or distress in the legal workplace, positively impacting workplace culture, professional relationships, firm reputation, talent retention and profitability.
More details »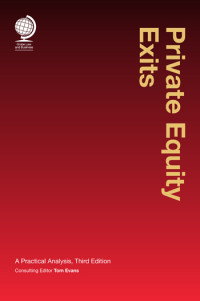 A Practical Analysis, Third Edition
Publication date: Jan 2022
This practical guide features contributions by leading specialists (including from Latham & Watkins, Linklaters, Macfarlanes and Ropes & Gray) on a range of topics linked to the exit of private equity investments. New to the third edition is analysis on emerging and established trends impacting exit terms, including early management liquidity, the prevalence of insurance solutions and related party or fund-to-fund exits.
More details »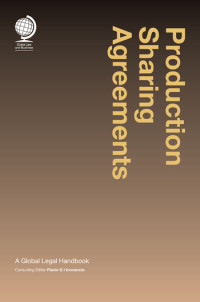 A Global Legal Handbook
Publication date: Nov 2021
This title is the first comparative treatment of Production Sharing Agreements and provides a comprehensive, in-depth overview of PSAs in key oil and gas jurisdictions around the world. It offers a rich, critical analysis and evaluation, and features contributions from an international group of leading experts and academics who address the legal, economic and political aspects of PSAs.
More details »
See all recently published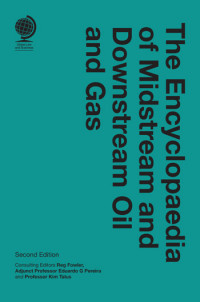 Second Edition
Publication date: Feb 2023
This new edition uniquely combines an encyclopaedia with commentary on both midstream and downstream activities. The topics it covers include energy policies; the relevant players in the sector - from governmental authorities to national oil companies; gas storage; the regulatory and contractual frameworks governing gas and sales agreements; liquefied natural gas; pipelines; distribution networks; and refineries. It has also been expanded with new chapters covering topics such as shipping; antitrust; third-party access; taxation; and ESG.
More details »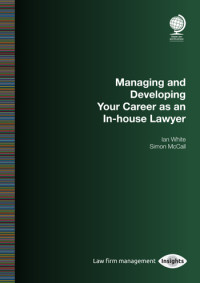 Publication date: Mar 2023
Managing and Developing Your Career as an In-house Lawyer by Ian White and Simon McCall is a companion to their report Your Role as General Counsel: How to Survive and Thrive in Your Role as GC. It seeks to provide practical ideas and tips on how a busy in-house lawyer can actively manage their own development. The aim is to help them perform more effectively in their current role and also prepare them for promotion or a move elsewhere.
More details »
Optimising Relationships for Growth and Success in an ESG Environment
Publication date: Oct 2023
This book shows how in-house lawyers across the world can better manage their relationships with themselves and others, and how their client organisations can reciprocate. The main theme throughout is that reframing relationships, and then making small changes in them, can together have a big impact on individual fulfilment, organisations and society. Written by Ciarán Fenton, it provides in-house lawyers at all levels, members of the c-suite and private practice lawyers with the principles, tools and models to manage their key relationships and enhance their work.
More details »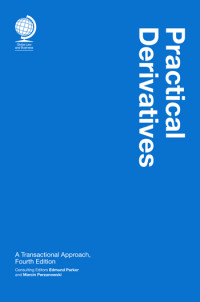 A Transactional Approach, Fourth Edition
Publication date: Jan 2023
This fourth edition features a number of new chapters analysing the latest trends in areas such as the rise of derivatives referencing cryptocurrencies and other digital assets, the slow but steady move to assets meeting the Environmental, Social and Governance (ESG) criteria in the area of derivatives and structured products, and the emergence of new structures in the securities finance world. It also includes updated chapters explaining how derivatives are used in the practical context, how the documentation works and any pitfalls for the unwary.
More details »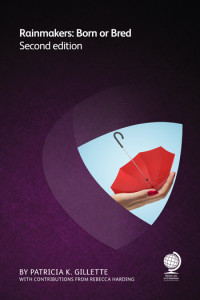 Second edition
Publication date: Dec 2022
Rainmakers: Born or Bred is about changing the business development conversation and focusing on how remote working has impacted the way business opportunities can be cultivated and developed. The book explores the personal characteristics that are common in successful rainmakers – and what holds others back from achieving their true potential. The book advocates stripping away the negative associations many lawyers have with the "S" word – selling – as this is a crucial step in redefining our approach to business development. It explores the benefits to stepping out of the safety net of simply being a great lawyer – which is vital in today's competitive market. Successful rainmakers know how to truly engage with clients, how to understand their business needs and challenges, and how to make their lives easier. This combination of skills attracts and builds sustainable, rewarding client relationships.
More details »
Implementing Successful Projects
Publication date: Jul 2023
This book focuses on implementing innovation and the innovation process in a law firm, from pilot to adoption and everything in between (whether that be within the law firm itself or undertaken by the law firm's clients). Divided into four parts to reflect the innovation lifecycle of examine, explore, develop and reflect, this book is a practical guide for those starting or doing innovation in law firms. Whether at the start or part way through an innovation journey, this book allows readers to dip in and out providing guidance on specific issues as they arise as part of the innovation lifecycle.
More details »
See all forthcoming titles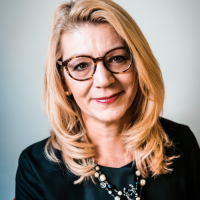 11 November 2022
Kim Tasso
Kim Tasso revisits the topic of soft skills for lawyers in the light of recent developments including the return to office working, the accelerating digital revolution, the escalating war for talent and the myriad other challenges facing the profession – all of which place huge demands on leaders.
Read blog »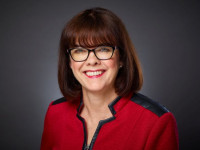 14 September 2022
Sally Sanderson
Sally Sanderson discusses how to meet the learning expectations of your Millennial and Gen Z employees.
Read blog »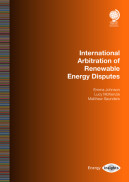 27 April 2022
Emma Johnson, Lucy McKenzie
Emma Johnson and Lucy McKenzie from Ashurst LLP explores how the fundamental transition to 'Net Zero' and a move away from reliance on Russian oil and gas will create more dispute risk in renewable energy projects.
Read blog »