---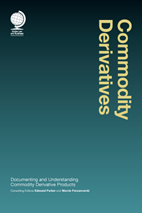 Consulting editor(s): Edmund Parker & Marcin Perzanowski, Mayer Brown International LLP
Publication date: Aug 2010
Format: Hardback
Pages: 584
Price: £138.00
ISBN: 9781905783373
Reviews
Move over The Wealth of Nations, Das Kapital and Capitalism and Freedom over on your bookshelf; Commodity Derivatives is a worthy addition to these economic treatises.
- Michael Sackheim, Futures & Derivatives Law Report
Review for Credit Derivatives, by Edmund Parker: "The volume that he has given us is, without doubt, the single best publication on credit derivatives for the practising lawyer that is available."
- Michael Sackheim, Futures & Derivatives Law Report
Review for Credit Derivatives, by Edmund Parker: "This book is first and foremost an essential resource for legal practitioners involved in advising on or structuring credit derivative products."
- Paul U Ali, Associate Professor, University of Melbourne
Receive 50% discount today: enter 'SALE2019' at the checkout
Commodity derivatives are financial instruments whose value is based on underlying commodities, such as oil, gas, metals, agricultural products and minerals. Other assets such as emissions trading credits, freight rates and even the weather can also underlie commodity derivatives.

Although the market has been around for centuries, commodity derivatives remain a vital and increasingly sophisticated product today. Airlines continue to hedge themselves against volatility in fuel prices, mining corporations against declines in metal values and power companies against rises in the price of natural gas.

This accessible title explains each type of transaction, together with the documentation involved. In particular, the book analyses and guides the reader through the full suite of over-the-counter, exchange-traded and structured commodity derivative documentation, and provides a detailed guide to International Swaps and Derivatives Association and other leading documentation platforms.The book further contains detailed analysis of the regulatory and tax issues affecting commodity derivative products in the United Kingdom and United States.

This title is edited by Edmund Parker, head of derivatives at Mayer Brown, London (author of Credit Derivatives: Documenting and Understanding Credit Derivative Products and editor of Equity Derivatives: Documenting and Understanding Equity Derivative Products), and Marcin Perzanowski, an associate at Mayer Brown, London.