---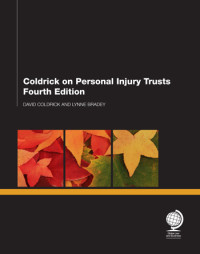 Author(s): Lynne Bradey, David Coldrick
Publication date: Nov 2008
Format: Softback
Pages: 335
Price: £245.00
ISBN: 9781906355340
This vital report is the only textbook of its kind for practitioners in this complex area of law. Since 2002 this essential resource has continued to fulfil its promise of:
Enabling compensated persons to understand and obtain the best deal from the means-tested benefits system through the use of personal injury trusts;
Enabling solicitors to unravel the mystique surrounding the foundation and administration of personal injury trusts and to equip them to fulfil their role better for it;
Enabling solicitors to develop compensation protection services to help protect their firms from negligence claims and to improve the bottom line; a
nd enabling solicitors to do these things in as efficient and as practical a way as possible with the greatest amount of professional peace of mind.
The fourth edition has been fully updated to include: The significant changes by the mental capacity act 2005 which came into force fully on 1st October 2007; A revised and expanded property section with specific focus on purchasing property where there is a P I Trust in place or where the Court of Protection are involved; 2008 changes to the care rules and Employment and Support Allowance, which has replaced Incapacity Benefit for new claimants; Plus, new and up-to-date precedents. It is vital that every lawyer doing personal injury compensation work should have a copy of this book on their shelves to enable them to give truly comprehensive advice as to the final process in achieving compensation.