---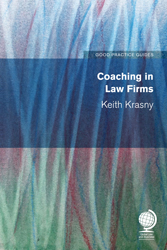 Author(s): Keith Krasny
Publication date: Jun 2019
Format: Softback
Pages: 150
Price: £45.00
ISBN: 9781787422445
Increasingly, law firms are turning to coaching as a tool to help tackle challenges relating to leadership, the development and implementation of new strategies, new partner development, recruitment and retention, business development and much more.
Navigating the various, often overlapping, fields of coaching, training, mentoring and consulting can be complex. While no one can prescribe the perfect solution for every firm, Keith Krasny, a former in-house and private practice lawyer, draws upon his own experience and that of leading professionals to help guide lawyers wanting to make informed decisions about the best coaching approach for their firms.
Written in an accessible style, this book includes practical tips on the uses of coaching in law firms, best practice and advice on how to get started. In addition, real-life examples are used to illustrate how coaching has helped lawyers achieve and sustain long-term success and wellbeing.
This comprehensive guide will prove invaluable to private practice lawyers, learning and development directors and HR professionals.