---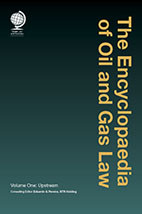 Consulting editor(s): Eduardo G Pereira, STR Holding
Publication date: Apr 2014
Format: Hardback
Pages: 358
Price: £225.00
ISBN: 9781909416062
The petroleum industry is highly specialised. Over the centuries, the industry has developed a large number of standard petroleum arrangements and contracts that are not familiar to all across the industry and even less to the outside world. Each arrangement/contract has its own detailed terms and provisions.

This major work provides the unique combination of an encyclopaedia with commentary for the entire chain of petroleum activities. This first volume of the encyclopaedia deals exclusively with upstream activities. First, it deals with all types of petroleum title with the host government (eg, concession agreements, production sharing agreements and service agreements). Second, it covers all the relevant consortium agreements between investors (eg, joint bidding agreement, joint ventures and joint operating agreements). It also deals with the relevant players in the sector varying from the international oil company to the national oil company; the relevant regulations in the sector (eg, petroleum law, fiscal terms, health, safety and environment and procurement) and the key mechanisms for raising funds in the upstream sector. Lastly, the book covers acquisition mechanisms with government authorities and private parties, and the key issues concerning governing law and dispute resolution.

This approach enables all involved in the petroleum industry to master the industry's necessary legal terms in one publication. A follow-up volume will focus on the remaining petroleum activities involved in the transportation, refinery, market and distribution phases. Both volumes will feature chapters by leading experts across the globe in order to provide the best industry practices and standards.

This encyclopaedia will serve as a valuable tool for lawyers, professionals in industry, consultants, academics, engineers, geologists who are interested in understanding the key legal terms and provisions of the oil and gas industry.