---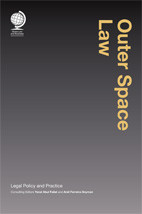 Consulting editor(s): Yanal Abul Failat and Anél Ferreira-Snyman
Publication date: Oct 2017
Format: Hardback
Pages: 390
Price: £145.00
ISBN: 9781911078197
Which digital edition is right for me?
Featuring a foreword by Steve Bennett, Starchaser Industries
Reviews
The expertise contained in this book is impressive, as it comes not exclusively from lawyers and academics, but from insurers, economists and financiers as well -- and yes, space venturers.
- Phillip Taylor, Richmond Green Chambers
Read more...
The real treasure is its contributors. 'Outer Space Law' is not penned by a single author but represents the contribution of numerous essayists who represent the budding generation of legal and policy minds who will are and will continue to influence the legal environment and canon of outer space. Indeed, it is the introduction of this new crop of legal and policy professionals that is the real cake of 'Outer Space Law' and their insight within the icing.
- Michael J. Listner, Space Law and Policy Solutions
This book certainly offers a complete view of the space activities in the present evolving scenario and of the existing international rules governing such activities.
- Alfredo Roma, 'Aviation and Space Journal'
At the end of the day, this book has much to offer for experienced and novice space practitioners, scholars and policy analysts. It has sufficient breadth of subject matter and quality of analysis to provide even the most seasoned among us with something novel and interesting to consider.
- Dennis J. Burnett , LMI Advisors, 'Space Policy'
The compilation, however, concentrates on those legal questions on the use of outer space which are increasingly relevant in the more commercial age. Here the consulting editors do not shy away from including authors thinking outside of the box.
- Theunis Kotzé B.Iur LLB LLM , Attorney of the High Court of South Africa - South African Yearbook of International Law
The potential use of space for military purposes has, since the end of the Second World War, been intrinsically linked to the development of space technology and space flight. The political relevance of outer space continues to be recognised by nations, and in particular the strategic benefit of Earth observation from outer space remains an important national security tool. However, because of the dual-use potential of many space applications, the distinction between the military and non-military uses of space is becoming increasingly blurred. The consequent potential for conflict between nations in order to protect their space assets is alarmingly clear.
The outer space arena has, however, evolved to increasingly include non-state entities, which are becoming more and more involved in outer space activities. These activities currently comprise the use of satellites for navigation purposes, the transportation of supplies to the International Space Station and the offering of tourist flights into outer space. Today in all space-faring countries, the space industry contributes to national GDP and supports the labour force. It also serves as a catalyst for technological advancement and productivity growth, and has become an integral part of the day-to-day lives of people all around the world.
The involvement of private actors in outer space has, however, given rise to a number of legal issues, including questions pertaining to liability, insurance and property rights in space. The current outer space treaties are to a large degree outdated and unable to deal with legal issues arising out of the military and commercial use of outer space.
Outer Space Law: Legal Policy and Practice is aimed at readers looking for a single title to understand the key issues relevant to the space sector, with an emphasis on the practical application of those issues. The book will be specifically relevant to legal practitioners, academics and state departments primarily working in the space arena, as well as to those in other related sectors such as IT and media, insurance and political science. Edited by Yanal Abul Failat, lawyer at the international law firm LXL LLP, and Professor Anél Ferreira-Snyman, a professor of law specialising in international space law at the University of South Africa, the book includes contributions by leading experts from space agencies, space venturers, lawyers, economists, insurers, academics and financiers.