---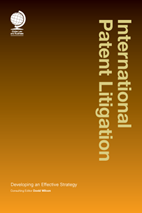 Consulting editor(s): David Wilson - Carpmaels & Ransford
Publication date: Mar 2009
Format: Hardback
Length: 294 pages
Price: £128.00
ISBN: 9781905783212
Reviews
A useful book for in-house counsel, patent practitioners, and anyone concerned with the management of an international patent portfolio.
- Dr Brian Whitehead, European Intellectual Property Review
"Its strength is that its authors offer lots of different ways of doing things, whether it's in terms of picking a team, getting one's timing right, weighing risks against benefits or putting together a Plan B in case Plan A doesn't work."
- Jeremy Phillips, PatLit
"While not for the casual reader, 'International Patent Litigation: Developing an Effective Strategy' will be invaluable for developing a strategy for protecting against infringements, preparing proper litigation strategy, estimating costs of litigation, and preparing to engage local counsel. "
- Patent Baristas blog
Receive 50% discount today: enter 'SALE2018' at the checkout
As the importance of technology-based products and processes continues to increase, so too does the significance of patents. Patents are extremely powerful – they provide invaluable market exclusivity to their owners and present a potential barrier to third parties' freedom to operate. Unsurprisingly, therefore, patent-related disputes are becoming more common and their consequences more significant than ever. Likewise, globalisation means that patent disputes must increasingly be managed on an international rather than local level.
However, the lack of a harmonised patent dispute resolution system across the major jurisdictions means that this is not a simple exercise. Actions taken in one jurisdiction can have unforeseen consequences in another; the time taken in the various jurisdictions to reach a conclusion can vary considerably; and the measures and remedies available differ from country to country.
This major title by leading practitioners is a practical guide to patent litigation (and alternatives, if available) in a selection of key jurisdictions. It covers the timescale of proceedings, the availability of interim relief, disclosure, available remedies and costs, among other crucial factors. The book provides a useful comparison of how each jurisdiction deals with the issues that arise and the practical consequences of litigating in each location. This comparison is designed to assist those involved in international patent litigation in devising an effective strategy to manage the litigation and so maximise the chances of a successful outcome, while also reducing unnecessary costs.
The book is a concise, practical guide for all those involved in the conduct and management of international patent litigation, from in-house professionals (patent managers, patent attorneys and general counsel) to those in private practice.