---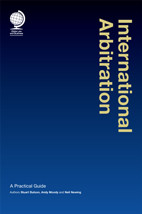 Author(s): Stuart Dutson, Andy Moody and Neil Newing - Eversheds LLP
Publication date: Dec 2012
Format: Hardback
Length: 298 pages
Price: £118.00
ISBN: 9781905783694
Reviews
The book doesn't just explain what arbitration is and how it works; the authors also give their own practical tips on each issue. The book is therefore an extremely useful and practical read for all practitioners involved in arbitral procedures. We recommend it
- AIA (Association for International Arbitration)
Dutson, Moody and Newing have done what more of us should do more often: set out what arbitration is about and how it works. And they have done that efficiently, unpretentiously and well … It is a thorough, helpful and thoughtful survey of the on-the-ground reality of international arbitration.
- George Burns, Head of International Arbitration, Salans (as reviewed in GAR)
A well written introductory text for the non-specialist.
- Loukas Mistelis, Queen Mary University of London
The global increase in cross-border transactions has led to a rising trend in international disputes. International arbitration has become the preferred dispute resolution method, as companies and individuals increasingly favour a neutral international tribunal over foreign domestic courts.

This new book provides a practical guide to international arbitration. Written by leading experts Stuart Dutson, Andy Moody and Neil Newing from Eversheds, this title explains the stages of the arbitration process in a straightforward manner and from a practitioner's perspective. The authors provide guidance on drafting the arbitration agreement, commencing arbitration, selecting the arbitral tribunal, drafting pleadings and witness evidence, liaising with the tribunal throughout the arbitral process and enforcing the final award.

Numerous tips, examples and precedents are included to help the new practitioner or interested student understand each stage of the arbitration proceedings.